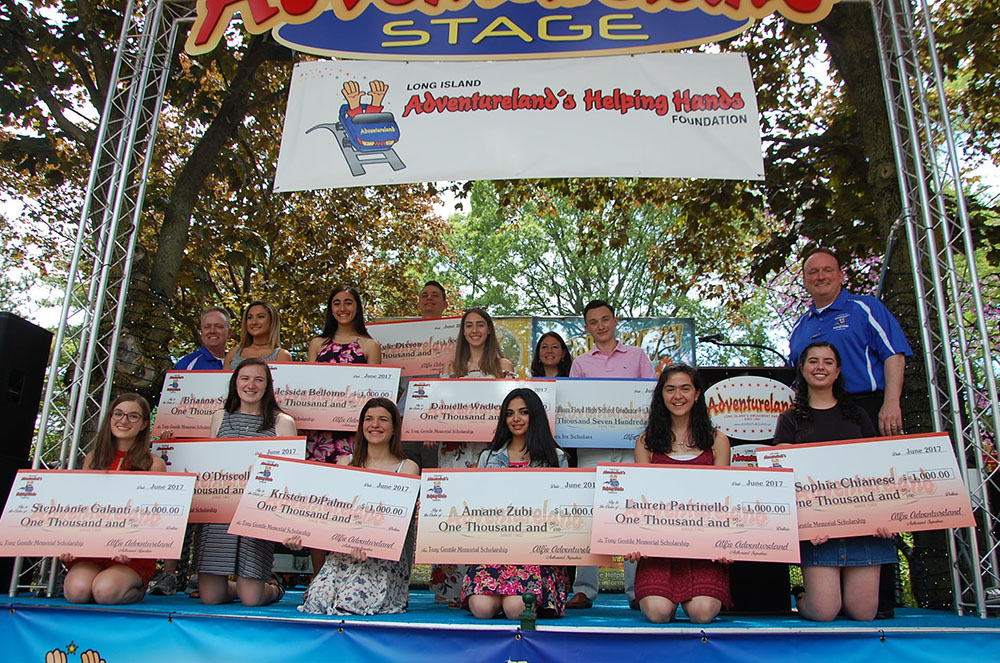 We would like to take this opportunity to introduce you to Adventureland's Helping Hands Foundation and the Tony Gentile Memorial Scholarship. As you may know, Adventureland has been the leader in family fun on Long Island for nearly 60 years. As a midsized family amusement park located in Farmingdale, we're dedicated to providing safe, affordable, and inclusive fun for everyone, and we're honored to call Long Island our home.
In 2013, Adventureland founded The Helping Hands Foundation to focus more efforts on how to maximize our philanthropy throughout Long Island. Since our inception, The Helping Hands Foundation has established four annual drives: the Christmas in July Toy Drive, August School Supply Drive, Fall Food Drive, and the Coats for a Cause Drive. These efforts have allowed us to donate thousands of goods to Stony Brook Children's Hospital, the Ronald McDonald House of Long Island, the Town of Babylon Food Pantry, Long Island Harvest, multiple at-risk school districts like Wyandanch, Copiague, and Uniondale, and many more local organizations.
In addition to our drives, we've also established a growing scholarship and grant program that assists Long Island residents with college tuition and assists non-profit organizations with special projects and initiatives. To date, our Tony Gentile Memorial Scholarship Fund Events has issued nearly $30,000 in scholarships to Long Islanders pursing a college degree.
You can find more information and applications for the 2018 Tony Gentile Memorial Scholarship and an application for the Sachem Dental Group Endowed Scholarship on our website, www.HelpingHandsli.org.  Eligible applicants must be a senior at a Long Island High School, they must be attending a college or university group events on Long Island as a fulltime student in the fall of 2018, and they must submit a completed application by May 4, 2018. Applicants for the Sachem Dental Group Endowed Scholarship must be pursuing a degree in the sciences or medical fields.
The Tony Gentile Memorial Scholarship will award five $2,000 scholarships, and the Sachem Dental Group Endowment will award one $2,000 scholarship. Scholarships will be awarded in late July. Recipients of the award will be notified via email on or before May 31, 2018. Please note that if any interested student is a current Adventureland Employee, they must complete a separate application.
Please email Info@HelpingHandsLI.org for more information.