---
Birthday Parties in New York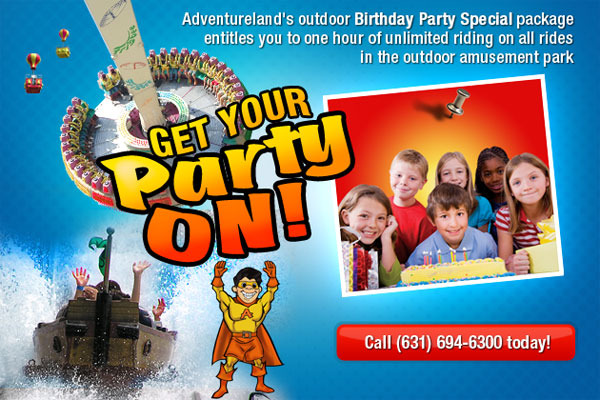 Get Your Party On!!
$22.99 Per Child plus tax
Minimum of 10 Children
$3 per child per additional hour of riding
NO CHECKS ACCEPTED
$50 Deposit required for making reservations
Minimum of 10 Children
Deposits are non-refundable
Call (631) 694-6300 for Reservations.
For more information please complete the Birthday Party Information Form.
Adventureland's outdoor Birthday Party Special package entitles you to one hour of unlimited riding on all rides in the outdoor amusement park. Please note, anyone riding with children must have a Party bracelet or tickets to ride on the rides. There are height requirements for some rides which are posted at the tickets Booths throughout the park.
Included with the party package is one hour of eating time which includes a choice of Hot Dog, Hamburger, Chicken Nuggets or a slice of Pizza, one order of French Fries and one Soft Drink. Also included are Party Hats, Party Candy, Party Tablecloth, and Party Napkins and a friendly Adventureland hostess will serve the party. Clean up is always included.
Please leave your cell phone number with the party office so you can be reached if needed.
Birthday Party Rules:
No outside food will be permitted in restaurant for birthday parties.
All ride bracelets must be returned before food is served.
All riding must be done prior to feeding the children.
For information and reservations please call (631) 694-6300
Adventureland Birthday Party FAQ Downlaod And Print Our Birthday Party Invitaion