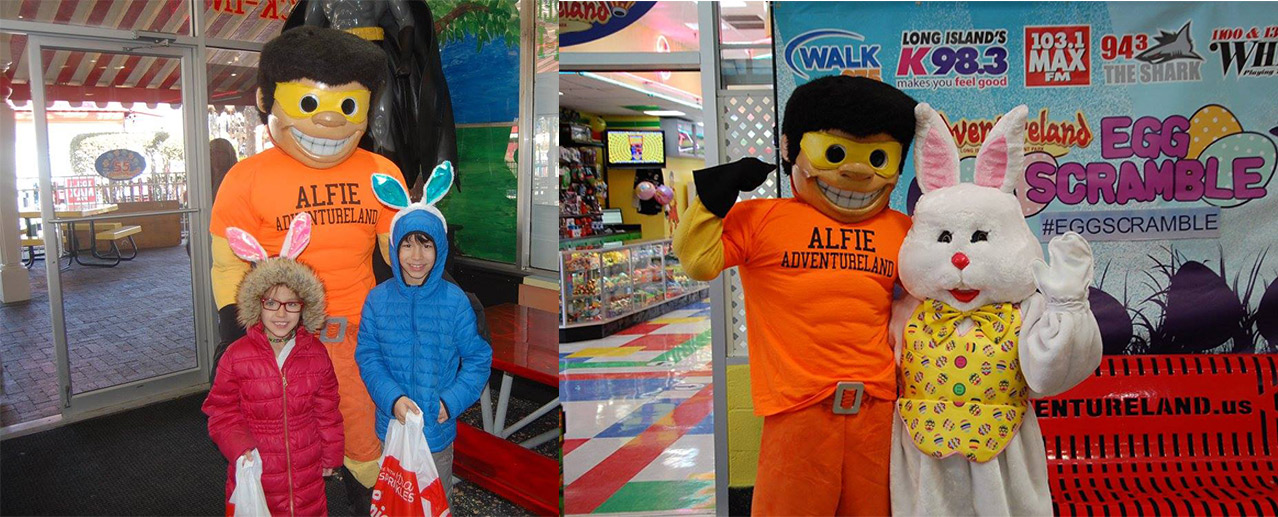 Join us for the annual Bagels with the Bunny breakfast on opening day March 24th at 9am! Although already jammed packed with family fun, you can make the most of Adventureland's opening day by attending this spring celebration the morning of the Egg Scramble.
A ticket to Bagels with the Bunny includes a POP band, bagel breakfast, photo with the bunny, early access to the Egg Scramble, and early access to the rides! That's right, start riding and get a head start on the Egg Scramble and hour before the park opens to the public!
Tickets that include just the bagel breakfast and the photo with the bunny are available for Mom and Dad. Season Pass holders can get in on the fun too by purchasing a ticket that includes everything except the POP band!
All persons entering the park for the Bagels with the Bunny Event must have a ticket. For more information visit www.adventureland.us.
When you arrive at the park for the Bagels with the Bunny event, you will proceed to the Main Ticket Booth to redeem your ticket voucher. Kids will be given bunny ears and a basket filled with a craft on their way to the Adventureland Restaurant. Inside the restaurant, you can help yourself to bagels, coffee, and juice. Photos with the bunny will be taken in the Birthday Party Room, and photos will start after an announcement is made. Once you take your photo with the bunny, you will be given a ticket that you can redeem for a complimentary printed photo from the Little Dipper Photo Stand any time before 4pm.
The Bagels with the Bunny event will conclude at 10am, when the rides will open, and the Egg Scramble will start. Kids will be given a treat bag along with a treat booklet filled with coupons. These coupons can be redeemed for free spring surprises and giveaways from the vendors set up throughout the park.
The park will open for 2018 Season Pass holders at 10am, who can enjoy an extra hour of rides and an early start to the Egg Scramble before the park opens to the public at 11am.
At 11am, Adventureland will open to the public for a Buy One POP Get One Free special on POP bands.
Make the most of Adventureland's opening day by joining us for Bagels with the Bunny, starting at 9am on Saturday, March 24th—everyone must have a ticket to enter the park for this event! There are limited tickets available, and they all must be purchased in advance online at www.adventureland.us.