---
Fundraising Events In New York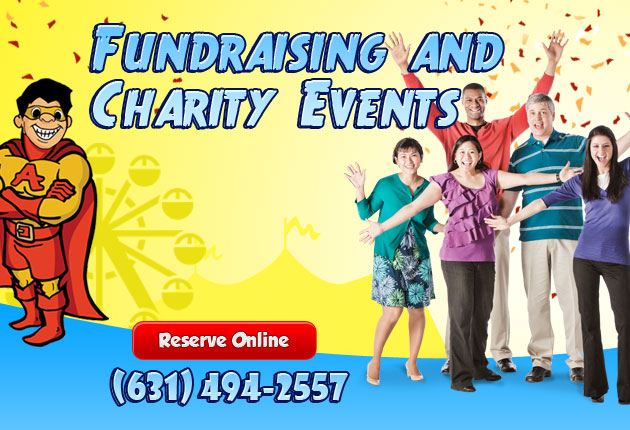 For Group Sale reservations and information, please call 631-494-2557
Fundraising events can be challenging for organizers. Developing and conducting a successful fundraiser takes lot of creativity and planning. It has to be unique and interesting and the atmosphere you host it in should also be refreshing. It should also have some activities and games that are interactive and help people relax and have an enjoyable time. And even as you do all of this, the focus should still be on the fundraising factor itself and the purpose should not be lost.
Keys To a Successful Fundraising Event
Fundraisers may be organized by charities, companies or any community groups, but the ultimate goal is to raise funds. People have to feel encouraged to be generous. When companies organize fundraising events they are a very important part of the company's sales and marketing strategy as well as staff development programs. This makes it all the more important for them to be planned and executed effectively. We cater to all kinds of events with expertise, which goes a long way in creating an atmosphere that will encourage people to open up their hearts and their pockets to their favorite charities or cause.
Have a Great Time and Enjoy the Group Discounts
As you and your colleagues are committed to supporting your organization's cause, Adventureland Amusement Park is committed to you. We have the best packages and discounts for group events like fundraisers. This helps you keep your costs lower and within your budget making your fundraising event even more successful. We offer amazing rides that can thrill all attendees and guests. Our Bumper Cars, Pirate Ship, Wave Swings, and many other attractions offer non-stop entertainment and fun to everyone at the event.
The Pefect Place For Your Fundraiser
There is a distinct advantage to conducting your event at our amusement park venue. Adventureland's fun and entertaining reputation helps your guests have an enjoyable time and feel more generous which greatly helps the success of your fundraising event. In addition we understand the importance of your organization's event and our friendly and courteous staff work hard to ensure your guests have a good time. Every service and amenity offered by Adventureland is excellent and to our highest standards. The variety of rides, outdoor games and other attractions in our park makes Adventureland Amusement Park the best place to host your fundraising event. It has a little something for everyone and the young at heart can have as much fun as the little ones will.
Your guests will be impressed and happy after spending a fun and exhilarating day at Adventureland which means donations will come flowing in and be put to good use. Don't think twice, and call Adventureland group sales today at 631-494-2557 for your fundraising event reservations or book online. Visit Adventureland Amusement Park at 2245 Broad Hollow Road (RT. 110), Farmingdale, NY 11735.