---
Fundraising Events In New York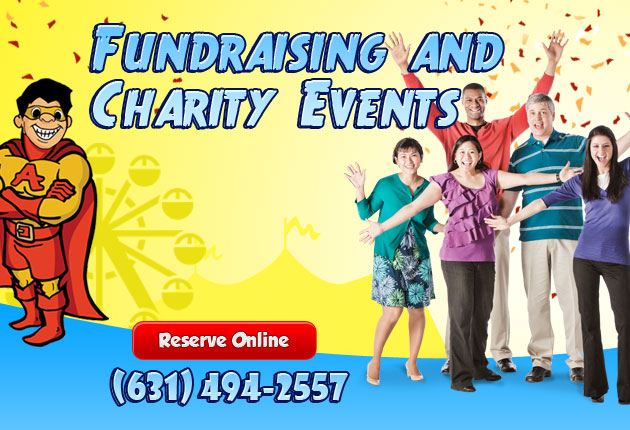 For Group Sale reservations and information, please call 631-494-2557
Need a fresh and fun fundraising idea? Think Adventureland! We've been helping organizations of all sizes exceed their fundraising goals for over 50 years!
We put the FUN in fundraising events
Fundraisers shouldn't be stressful or overwhelming; let us help you raise fundraising idea for your cause and bring awareness to your organization, all while you and your group have fun! We work with you to customize a package for your group members that will give them a day they will never forget. Your guests can fly high on the Wave Swing, go for a spin on Turbulence, splash around on Adventure Falls, and cool down in our climate controlled arcade and restaurant. Offer your guests more than just rides with food, arcade, and game packages. Classic snacks like hot pretzels, funnel cakes and churros are always a hit, while those looking to try something new can try our flavor blend ice cream, ICEE and Dippin Dots. Guests can test their skill at games like Rope Climb, Top Spin and Basketball or score points and prizes in our arcade.
Your supporters can SAVE while you fundraiser
A fundraiser at Adventureland allows your guests to save while raising money for your cause! By bringing a group of just 20 or more riders, your organization is eligible for major discounts on the unlimited riding bracelets—in fact, group rates let you save up to $10.49 PER PERSON. Let one of our fundraising professionals help you create an Long Island fundraising events that allows your supporters to save money and donate towards your goal.
A trusted Long Island Family Business of over 50 years
Adventureland is an iconic Long Island family destination—home to millions of family and childhood memories. We're easily accessible from all major parkways, and parking and admission are always free. Our family friendly rides ensure there is something for everyone at our park. Give your supporters the opportunity to experience a new fundraiser event; something they can invite parents, grandparents, nieces, nephews and neighbors to! Fun for the young, and the young at heart, a fundraiser at Adventureland will leave a lasting impression of fun family memories for your supports, and help you reach your fundraising goals.
To speak with a Fundraising Coordinator, please call 631-494-2557 or email GuestRelations@adventureland.us