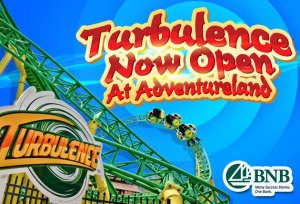 Since 1962, Adventureland has provided fun and games, and thrills and chills to Long Island's residents and tourists. Through the years, the amusement park has remained on the cutting edge of innovative entertainment for kids and adults and they've done it again with the addition of the new Turbulence spinning roller coaster.
The Turbulence coaster replaces the 50-foot tall Hurricane roller coaster that was a park favorite since its construction in 1991. The new roller coaster ride adds yet another element of surprise and level of excitement with its twisting, turning, and spinning coaster car action that makes it the perfect ride for roller coaster enthusiasts and thrill seekers. Children over four feet tall can take part in the fast-paced excitement of Turbulence when accompanied by an adult.
The Turbulence coaster is the tallest and only spinning roller coaster in Long Island and is now open for business and ready to take riders to dizzying heights. The green and yellow coaster cars are guaranteed to have riders wide-eyed and holding their breath in anticipation of the next turn. It's an impressive sight as riders hold on tight and scream with delight as the coaster cars enter each turn, spinning and twisting all the way at super fast speeds.
Adventureland Amusement Park has been a "must see" attraction since its opening, and over the years, the park has become a popular destination for class trips and for Adventureland group trips for school students.
Adventureland provides the ideal atmosphere for a complete day trip, whether it is a small or large group, with outdoor games, rides, and arcade suited for children of all ages. Group trips can also include food package options and access to snack stands throughout the park to make group trip experiences more convenient.
As summer heats up and kids are looking for fun things to do, it's the perfect destination for visiting children's summer camps. Fun-filled entertainment is a big part of Adventureland's specialty for summer camps, girl scouts, boy scouts, youth groups, YMCA groups and more. It's the perfect opportunity for children to enjoy the nice weather outside, having a good time socializing and making new friends. Kids can safely explore Adventureland Amusement Park and access rides, attractions, outdoor games, the arcade, and the restaurant, food court and snack stands. Learn more about reserving your group trip at Adventureland and call (631) 494-2557 for more information or reservations.