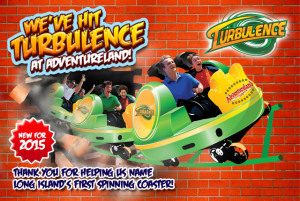 After a long cold winter, Spring brings a lot of excitement as everyone looks forward to escaping cabin fever by enjoying the nicer weather outside. This Spring, Adventureland Amusement Park gives everyone another great reason to celebrate the end of winter by happily introducing Long Island's first spinning coaster, Turbulence Coaster. Turbulence is Long Island's only spinning rollercoaster and it's also the biggest. It's an amazingly thrilling rides with twirls and spins and twists and turns. Turbulence replaces the classic Hurricane rollercoaster that was one of the major attractions at the park.
In 2014 Adventureland held a coaster naming contest to pick the most popular name for the new coaster including names like The Boomerang, The Rotator, Mantis, Turbulence and The Jester. But in the end fans spoke out and chose Turbulence as the favorite.
The Impressive New Rollercoaster
The massive and attractive Turbulence coaster is an impressive site as it is being constructed only months before the March 2015 Opening Day. Turbulence features a green set of coaster cars and a yellow set of coaster cars that features free-spinning abilities creating a unique ride for guests each time around. Guests will definitely look forward to riding Turbulence over and over again to enjoy a new ride experience each time. Turbulence is also open to children over 4 feet tall when accompanied by an adult which also makes it a great family experience as parents can share the thrill and excitement with their kids.
This super tall and fast spinning rollercoaster soars into the Long Island skies in 2015 with cries of laughter and squeals of excitement as the coaster cars cruise at mind-boggling speeds and spins around each twist and turn.
Turbulence Creates an Impact
Turbulence has definitely created a new buzz amongst theme park and roller coaster enthusiasts in Long Island and New York as many people are looking forward to the unveiling of the new Turbulence coaster and be one of the first to ride it. Adventureland Amusement Park has always been one of the must-visit places on Long Island for locals and visitors and now Turbulence gives everyone another great reason to enjoy a day of fun and thrills.
Adventureland kicks off 2015 with a lot of excitement and anticipation in the atmosphere. 2015 will definitely be a great season that people will remember for years to come. Don't miss out on the action and visit Adventureland this season to experience the new Turbulence Coaster and Adventureland's other great rides and attractions for children and adults. Adventureland is a family friendly entertaining amusement park for guests of all ages. Call Adventureland group sales and reservations today at (631) 494-2557 or book online at www.adventureland.us.