---
Team Building Events in New York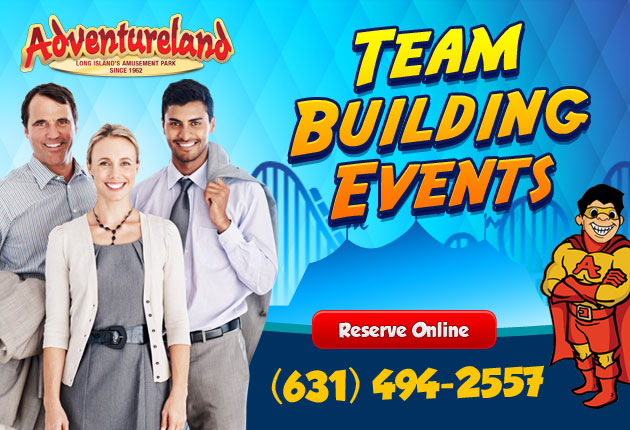 For Group Sale reservations and information, please call 631-494-2557
When it comes to corporate team building events and retreats, Adventureland Amusement Park is an ideal venue for enjoying an entertaining day while building team synergy and strengthening employee relationships. Adventureland offers more variety and excitement than conventional and boring traditional company team building events like seminars, dinners and training programs . If you are a business owner or supervisor of more than 50 employees then consider having your next corporate outing at Adventureland, conveniently located 30 minutes from New York City at 2245 Broad Hollow Road in Farmingdale, New York. Here are several great reasons why Adventureland is the perfect venue for your company outing events.
Keeping Employees Happy
Employees look forward to a fun and exciting adventure team building activities. If it's another boring seminar, they won't be energized or motivated. At Adventureland, they can experience entertaining and productive group activities. There are different thrilling adventure rides and exciting games and attractions that can help employees relax and have a good time.
Improve Employee Communication
Since employees are relaxed and more comfortable, they can effectively express themselves freely and improve their communication skills with other co-workers and supervisors even after the management team building event! This builds stronger relationships that carry into the daily work environment for more productive results and happier employees.
Fun and Relaxing Environment
Team building outdoor adventures activities usually causes more stress on employees. Those types of formal setups usually restrict employees from being themselves, letting loose and having fun. Fortunately, Adventureland has that laid-back environment which is both relaxing and exciting for anyone.
Affordable Group Rates
Management team building events can be expensive. If you have a limited budget, Adventureland is a great cost-efficient alternative. We offer discounted group rates for larger groups. Contact us for more information about our group rates and specials. Adventureland in Farmingdale, New York is the best option for your stress-free, exciting, and effective corporate team building event. Your corporate outing at Adventureland will leave a positive lasting impression that your employees and co-workers will remember forever.
Reserve your company's next adventure outing or corporate team building program events by calling Adventureland Amusement Park today at 631-494-2557.