---
Graduation Parties In New York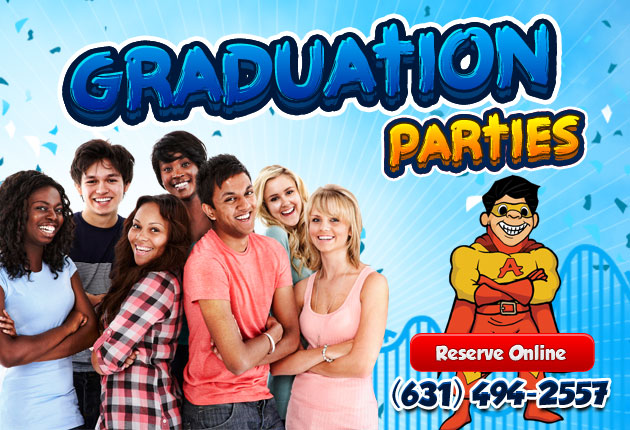 For Group Sale reservations and information, please call 631-494-2557
After spending many years attending school, graduation is a truly momentous and exciting occasion for students who are about to move on to the next stage of their lives. A well-planned graduation party gives students a one-of-a-kind experience to celebrate all the friendships they've made, the moments and memories of their school years and the new opportunities that await them. Adventureland is your ideal destination for fun graduation parties for all ages whether graduating from grade school, middle school, high school, or college.
The Ultimate Graduation Party Ideas for Anyone
Adventureland Amusement Park's variety of amusing rides, games and attractions make it suitable for guests of all ages to have a great time. For high school and college graduates, you may not be a child anymore but at Adventureland we believe that there is no age limit when it comes to having fun. We have thrilling rides and bumper cars and a ghost house that can get your pulse racing. We have a water slide and other attractions and if you prefer something a little different, why not try the Pirate Ship? So bring your friends and family to our fascinating park and spend some memorable moments having the time of your lives celebrating your graduation day.
Adventureland specializes in entertaining guests and unlimited excitement and enjoyment awaits you and your friends for your big graduation party event. The best part is our group discounts and savings make graduation parties affordable for any budget. So don't miss out on all the fun and excitement. After all, graduation is a once in a lifetime experience that you should not miss out on celebrating.
A Fun, Easy, and Memorable Party Experience
When organizing a party in your own home, you have to worry about all the preparation details and cleaning up after the party and miss out on all the fun. Eliminate the stress and make your life easier by hosting your graduation party event at Adventureland. Simply book your tickets online or call our group sales team at 631-494-2557. You'll be able to relax and have the best time you deserve celebrating your special graduation day! We also offer group food packages to make your meal planning simpler or feel free to visit our many snack stands, food court, and restaurant for a variety of tasty treats.
We know exactly how important your graduation party is and make every effort to ensure you and your guests have a great time for a successful party. We assure you no matter how you plan on spending your time at our park, all your guests will have a fantastic time. Don't wait another minute and contact Adventureland group sales at 631-494-2557 about your graduation party event or book online. Visit Adventureland Amusement Park at 2245 Broad Hollow Road (RT. 110), Farmingdale, NY 11735